Building your dream home is undoubtedly one of the most memorable moments of your life. You have the opportunity to create your living environment to include exactly what you want. When it comes to your custom home design, you are only limited by your budget and imagination. 
As the most trusted custom home design company in Vancouver, we've helped countless clients design, build, and perfect their dream homes. Designing your dream home should be fun and exciting, but many people get stuck. With so many decisions, many individuals become paralyzed by choices and possibilities. Even further, most clients don't even have an idea of what's available to them. 
Struggles with decision-making can hinder the luxury home design process. They can also keep you from incorporating some of the industry's latest and greatest custom home design features. Luxury home design should bring you everything you're looking for in your dream home, but you don't have to handle all the decisions on your own. Your custom home builder should give you the advice you need to incorporate the current must-have features into your finished project. 
You've come to the right place if you're looking for guidance and inspiration on must-have custom home design features. Let's discuss some unique features you shouldn't skip when planning your custom home design. 
Unique Features to Consider When Planning Custom Home Design
Ready to make your custom home the best in the neighborhood? Whether you're looking for cool features to impress friends and family or creative ways to boost your home's value, here are some excellent ideas to take your Vancouver custom home design to the next level. 
1. Create an Outdoor Oasis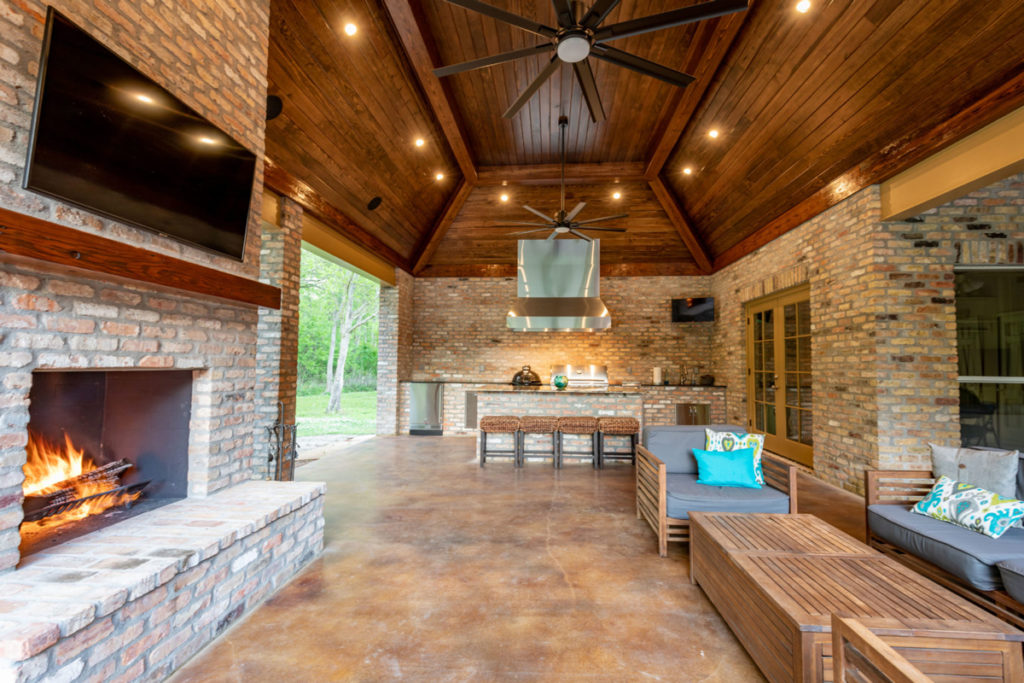 Most homeowners will tell you that creating an incredible outdoor living space is one of the best investments. With today's custom home design, the sky is the limit with outdoor living. Your outdoor sanctuary is a place for the whole family to retreat, escaping from the stresses of daily life and enjoying quality time with each other. There truly is so much you can do when it comes to your backyard. 
For starters, consider creating an inviting outdoor patio and sitting area off the back of your home. No outdoor living space is complete without a fully-equipped outdoor kitchen. Add a grill, outdoor refrigerator, fully-stocked bar, comfortable dining seating, and even food warmers. Create a space where the entire family can relax after a long day and gather for dinner together. 
Other great outdoor features you can include are fire pits or fireplaces with comfortable seating, a sports area, and an outdoor playground for the kids. Let's not forget the pool! You can add a custom pool that accentuates the geography of your backyard, adding aesthetic water features that enhance curb appeal. Add a spa or hot tub to make the space even more relaxing. 
2. Build a Well-Equipped Chef's Kitchen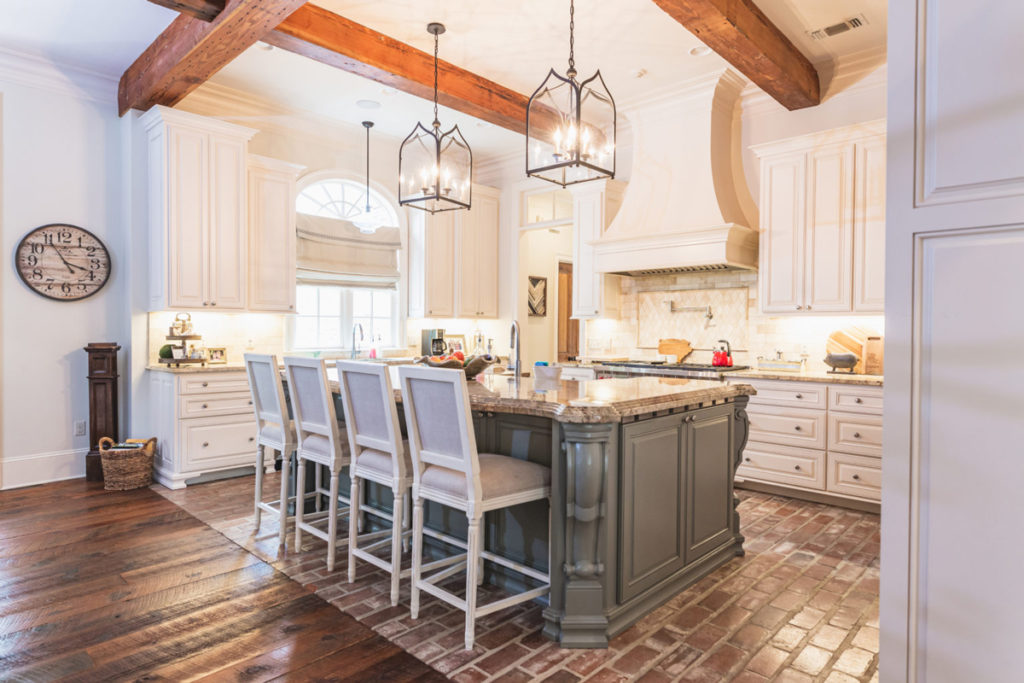 Whether you love to entertain or simply enjoy time with your family at the end of the day, your kitchen is probably the focal point of most in-home interactions. That's why your custom home design should include a well-equipped kitchen. If space allows, add a spacious island with seating to encourage socializing while preparing dinner. 
Modern kitchens feature high-end appliances, multiple sinks, ample counter space and storage, an oversized, enclosed pantry, and more! Once you've handled all the necessities and picked the best cooking options for your needs, it's time to look at advanced features. 
Consider adding innovative features, such as under-cabinet lighting, technology-driven features, instant hot water spickets, hidden appliances, fireplaces, and TVs. If you want to make your space more relaxing, a kitchen nook can finish the details and serve as a perfect place for snacks, homework, and conversation. 
3. Design a Mudroom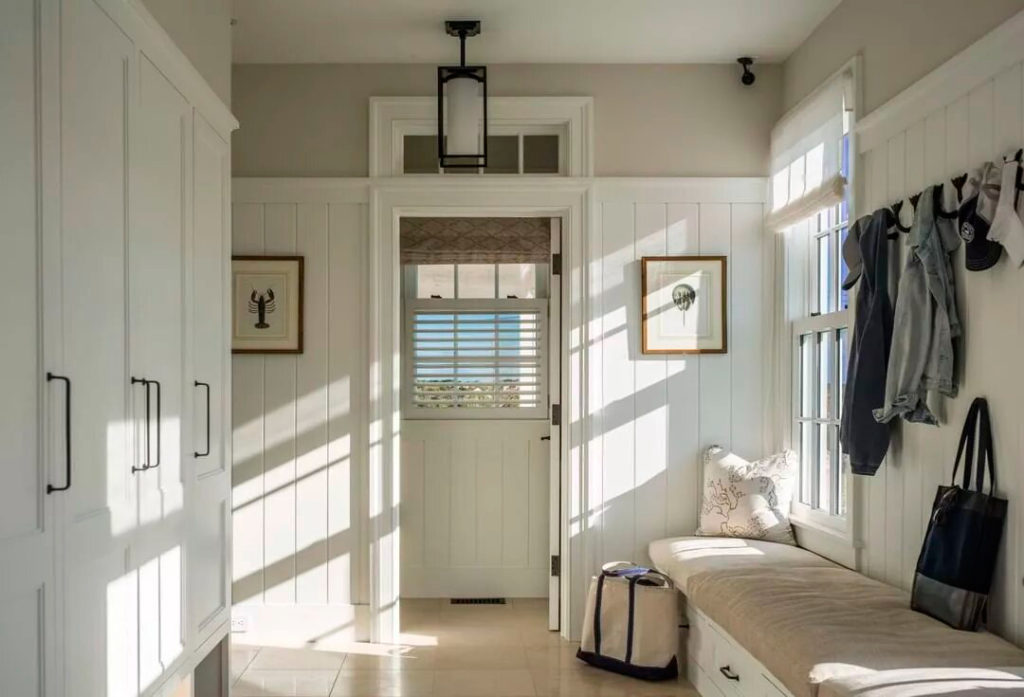 Every home, no matter the size, has a drop zone. It's where everyone drops their things as they come through the door. Perfecting your drop zone is a must-have when planning your custom home design. Many luxury homeowners have switched from tiny hall closets to expansive mudrooms creatively designed for the overall home aesthetic. 
The design of your mudroom should depend on the size of your space, the number of people in your home, and how you use your space. For example, do you need a dedicated space for housecoats and shoes or more room for sporting equipment and kids' school supplies? 
A great way to make this space stand out is to add built-in lockers or shelves that offer a more distinguished look. Designing a mudroom for your custom home design isn't just great for visual appeal, but it's also an excellent way to keep the family organized and give your children the responsibility of putting away their belongings. 
4. Include Built-In Shelving 
Today, built-in shelving is standard in most custom homes. Still, including built-in shelving in your custom home design is an excellent opportunity to experiment with your space. When most people think of built-in shelves, they imagine an office with a wall of shelves or a library with bookshelves. 
Think beyond the basics and consider built-in desks, tables, and creative bookshelves. Built-in shelves are more stable and add class and sophistication to your home design. These features can help you create the sleek, streamlined design you've dreamt of and keep your space clean and organized. Discuss your organizational needs with your custom home builder for even more ideas. 
5. Create a Custom Walk-In Master Closet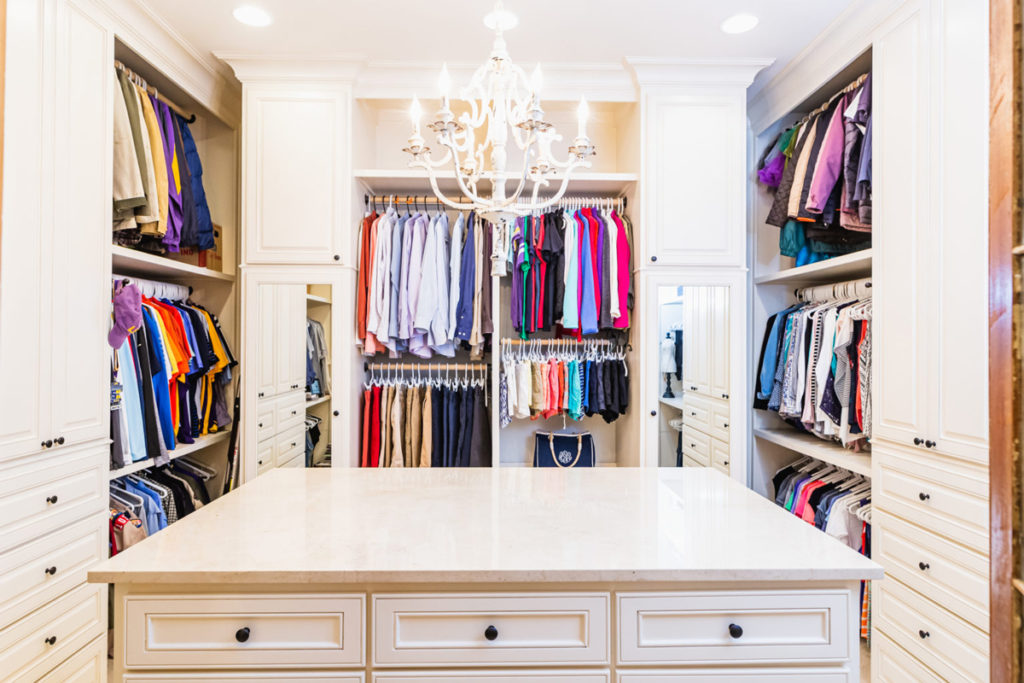 Your master bedroom is your sacred space to relax and recharge at the end of the day. That's why it's essential to consider how your master bedroom will be laid out. One crucial feature of your master bedroom with a custom home design is a walk-in master closet. This gives you ample space to accommodate your clothing, shoes, and personal effects. 
Walk-in closets can be practical and functional or an expansive, comfortable retreat to pamper yourself. There are endless options for cabinets, drawers, and spaces to hang your clothes. Talk to your custom builder about your specific needs to ensure you have plenty of room for your growing wardrobe. 
If you share your room with a partner or spouse, consider adding personal walk-in closets for each of you. Take your walk-in closet to the next level by incorporating additional features, including full-length mirrors, a vanity space, a sitting area, and even an island for arranging accessories and other personal decors. 
6. Build a Custom Home Design Theater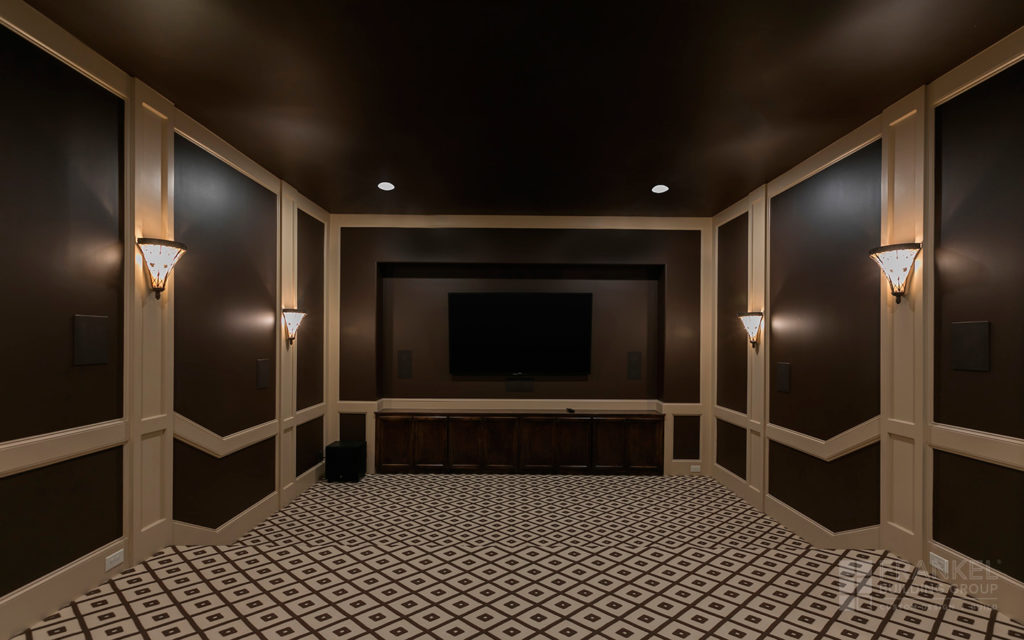 Do you want to make the family night even more exciting? Are you looking for creative ways to take date night to the next level at home? An excellent feature to consider for your custom home design is a home theater. 
Luxury home builders have all the connections when it comes to specialized contractors. Your builder will look at the space available and discuss your options for building a home theater. Be sure to add a modern HD projector, state-of-the-art surround sound, and all the latest technology features in the home theater industry. 
You'll be able to choose your seating, lighting, flooring, and more. Get creative by adding a popcorn machine, built-in snack bar, refrigerator, etc. 
7. Incorporate Smart Home Features
Smart technology is a staple in most homes, especially for custom home design. There are many options for incorporating home automation advances into your new living space. Consider adding programmable thermostats, WiFi-controlled lights, locks, and even security systems. 
You can also incorporate smart appliances. Adding these features makes everyday living more convenient and enhances the visual aesthetic of your home. Even better, it will also increase the energy efficiency of your home. 
8. Level Up Your Garage
No matter how many cars you currently have, you can always plan for the future. Most custom home designs include a three-car garage as standard. You can level up your garage space by adding a workshop, RV storage, or even a place to hang out. Some custom home garages include multi-function indoor areas. For example, you can add a basketball hoop inside for sports activities on rainy days. 
If you plan to spend a decent amount of time in your garage, consider adding heated floors or air conditioning. You can even add a loft, guest bedroom, indoor bar, and more! You can double the square footage of your garage to include space for a "man cave." 
9. Build a Wine Room
The wine lovers club is constantly growing today. Adding a wine room to your custom home design can be a great option if you love wine. It isn't only a great way to organize and display your wine collection, but it also adds value to your home. Talk to your custom home builder about the latest home design trends. Consider adding temperature-controlled features and a humidor for the cigar aficionado in the family. 
10. Make Your Master Bedroom an Indoor Spa
Create the perfect retreat to escape from the stresses of life with a spa-style bathroom. Large master bathrooms can include a soaking tub, walk-in shower, granite countertops, double sinks, and even a sauna. You can get creative with unique showers, toilets, and sinks. You can even add a walk-in closet or dressing room to your bathroom. Add advanced features to your bathroom appliances to increase your home's value. 
There truly are endless possibilities when it comes to your custom home design. As the most trusted Vancouver custom home design company, we strive to exceed your expectations. When you are ready to design your dream home, we'll introduce you to an expert architect, interior designer, and custom home building project manager to discuss your vision. With KEEN, we'll guide you through the process to create a memorable experience that eliminates stress and maintains the excitement of building your dream home. Call us at (604) 725-8625 or get in touch online to discuss your project.