You spend at least one-third of your life sleeping. Should your master bedroom design leave you feeling comfortable and relaxed? You can do so much regarding your primary bedroom, especially in a custom home. Clients are always looking for new ways to enhance their design and make their master more than just a room to rest their heads at night. 
More oversized bedrooms can contain everything you need to retreat, with various design features that exude luxury and reflect your personal style. Let's look at some features you should include in your master bedroom when planning out your luxury home project. 
Master Bedroom Design Options for Everyone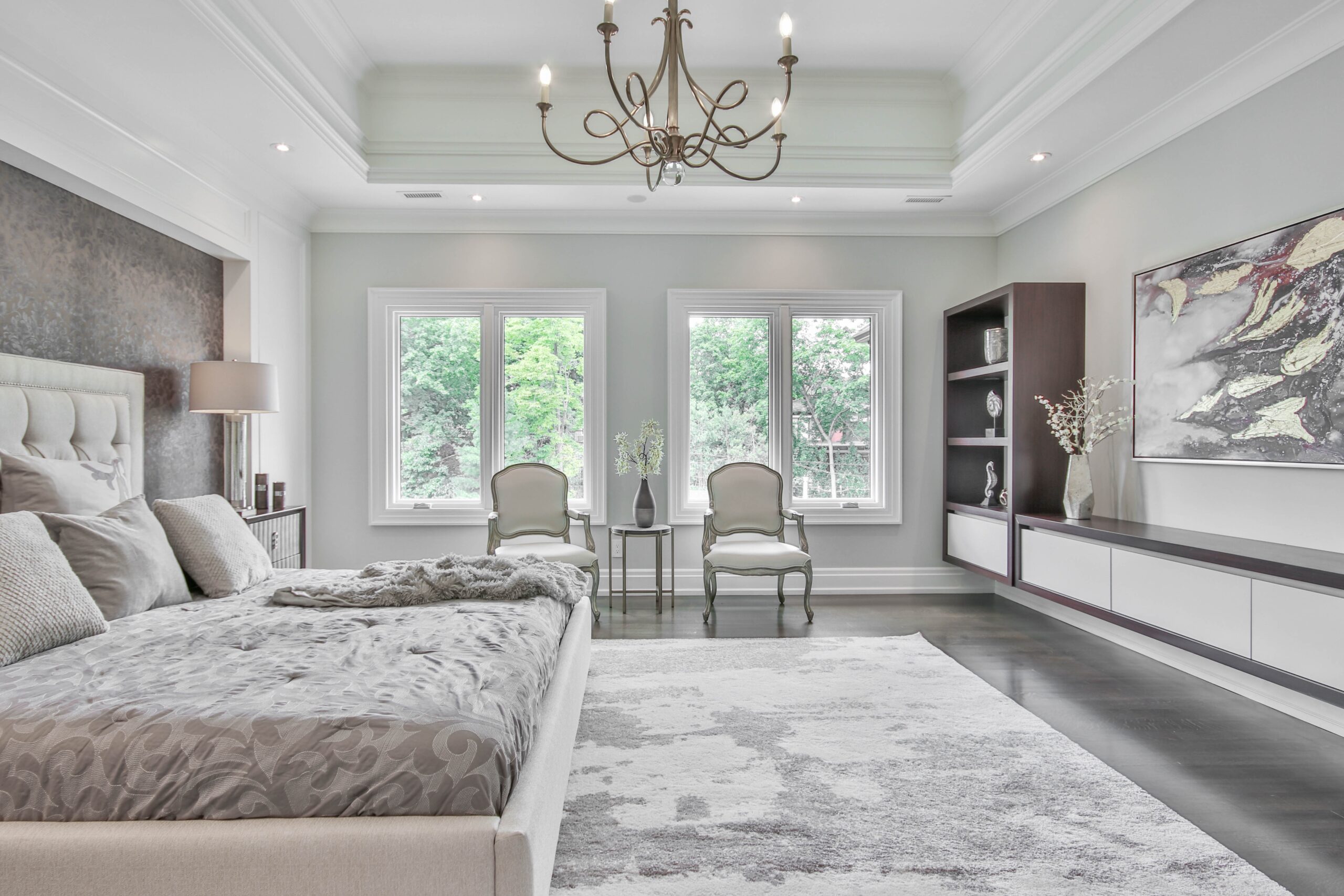 When it comes to your design, there are several categories you should focus on to create a master bedroom your friends and family will envy. Let's break it down. 
Explore Your Options with Lighting
If you're in the design phase of your construction, you can incorporate different lighting options into your design. One popular choice is lighting your master with natural light. Many homeowners like to marry the outside world with their inside space, which can be achieved by installing extra large windows. Adding large windows to your master bedroom design allows you to enjoy the outdoor view and take advantage of the fantastic health benefits of natural sunlight. 
You can also get creative with your interior lighting. Instead of traditional lamps, a popular option trend we see today is incorporating lighting directly into the wall or ceiling surrounding your bed. This option adds a clean and functional touch to your bedroom and frees up space on your nightstand! Install a dimmer and a remote to conveniently control your lights from the bed.
Play with your Bed Options
There are countless options when picking a bed for your master bedroom design. Many people choose super low-profile beds with no-fuss bedding. It lets you quickly get in and out of bed and creates a modern look using low-profile furnishing. Getting a good night's sleep is easier with less fuss. 
Statement beds are another option. If you are daring with your design, you should look for a bed that makes a statement in your master bedroom. Remember, it's your safe space to experiment, and you don't have to open your space to anyone else. Find something that brings you joy and peace, and you'll truly create an oasis for yourself. 
Another popular option today is antique pieces. You can find a beautiful antique headboard to add an old-world, romantic flair to your space. Mount it as a decorative piece or add some character to your bed. Your options are endless! 
Include Hidden Feature in Your Master Bedroom Design
Adding hidden features to your design isn't just fun. It's a practical way to keep your visible space clean and organized. Consider incorporating a small writing nook, makeup vanity, or reading space into your master bedroom. Add a ceiling pocket for draperies so you don't have to see the hardware. However you can hide unsightly fixtures and clutter to provide a clean and visually appealing look to your master bedroom, it'll leave you feeling good and increase the value of your property. Explore more organization tips here.
Creative Spaces You Won't Find Elsewhere
When working with your luxury home builder, ask about creative ways to enhance the look of your bedroom and add finishing touches you won't find anywhere else. Consider adding a breakfast bar and mini fridge to your master bedroom design. Include eclectic art pieces that invoke emotions and enhance the bedroom experience. Style your space with antique beams or accent walls. There are so many opportunities to create a style that is uniquely you! 
Contact Keen Builders Today to Discuss Your Options
Your master bedroom is one of the most intimate rooms in your custom home. Let us help you create a space that reflects your personality and provides a comforting place to unwind and decompress. Contact us today to discuss your options and work with the Vancouver luxury building team everyone trusts! Get in touch here.